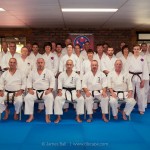 2/54 Kingston Drive, Helensvale QLD, Australia
The Gold Coast branch of the Okinawa Goju Ryu Kenkyukai is run by Damien Martin (6th dan) and Hannah Thornton (5th dan) at the Southern Cross Martial Arts Centre. This Gold Coast Okinawan Goju Ryu Karate dojo is located on the North end of the Gold Coast, at Helensvale, in a spacious, clean and modern training facility.
The Okinawa Goju Ryu Kenkyukai is headed by Masaji Taira sensei, Hanshi, 9th dan.
Damien and Hannah and a number of students travel to Okinawa annually to train with Taira sensei.
The Okinawa Goju Ryu Kenkyukai is renowned for its in depth study of the applications of kata.
The dojo is a part of the non-profit Southern Cross Martial Arts Association Inc
Underwood, Queensland, Australia
Sunshine Organic Miso is traditional Japanese-style organic miso.
It a gluten free, dairy free, egg free, sugar free, nut free and a vegan food. It contains biodynamic, organic rice and soybean and Australian sea salt. It has been fermented slowly and naturally. It is a great condiment for any cuisine. It is also very good for gut health.
The product has no additive, pesticide, MSG, fluoride or chloride. It is unpasteurised. Great for babies, elderly and in between.
Product ranges:
White sweet Miso (Shiro Miso) – great for salad dressing and suits dishes requiring a sweet taste to it. No sugar added.
Kome Miso (white rice Miso) – most traditional Miso. Good for miso soup, marinades and salad dressing.
Genmai miso (Brown rice miso) – known for its in depth flavour. Suitable for stronger taste bug. Great with Asian soup with a zing touch to it.
Combination- miso maker's blend – miso tastes slight different every year. Most chefs mix their own in-house Miso to create their own signature dish.
Shio Koji – use as natural substitute and meat tenderiser.
Pick up or delivery available