18 Merton Road, Woolloongabba, Queensland, Australia
Aikido Kokikai Brisbane are a family dojo and have been running Aikido classes in Brisbane for over 10 years.
James Moss (3rd Dan) & Julie Moss (2nd Dan) are experienced instructors and are are available to answer your questions anytime. The UQ dojo is run by Steve Henderson who is our senior instructor. Steve has been practising Aikido for 7 years.
Aikido is a powerful and effective martial art for self-defence. Our vision is to realise the finest self-defence ability and to develop and apply Kokikai Aikido training to improve the daily lives of Kokikai practitioners.
Kokikai is a Ki style of Aikido, and translates as the group with radiant Ki.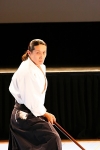 10 Ferry Road West End Queensland,
Aikido Yoshinkan (合気道 養神館 Aikidō Yōshinkan lit. "Aikido Cultivating the Spirit School") is a style of aikido founded by Gozo Shioda (1915–1994) after World War II.
Yoshinkan Aikido is often called the "hard" style of aikido because the training methods are a product of the gruelling period that Shioda spent as a student of Morihei Ueshiba before the war.
The Yoshinkan style is currently the second largest aikido organization worldwide.
Michiharu Mori Sensei, 7th Dan, was a direct student of the late Master Gozo Shioda for 10 years at the International Yoshinkan Aikido Headquarters in Tokyo, Japan, where he also taught.
The youngest Honbu instructor to receive the rank of 7th dan black belt, Mori Sensei has travelled extensively as a guest instructor at Aikido seminars in countries including Canada, India, Malta and Australia. Now settled in Brisbane, he is developing a high quality, world class centre for Yoshinkan Aikido.
705 Ann Street, Fortitude Valley, Queensland, Australia
Akira is the label of designer Akira Isogawa, who has forged a fashion brand that successfully manages to merge the aesthetics of East and West.Ladylike garments of delicate fabrics such as silk are crafted into soft and romantic silhouettes. The drapery and billowing sleeves of many pieces resemble kimonos – one of the main early fashion inspirations for the Japanese designer.
The fabric used to sculpt each piece isn't left in the original form, but rather treated and distressed, before being embroidered and beaded by hand to create multi-layered clothing, stating a clear devotion to craftsmanship.