1/145 Racecourse Rd, Ascot, QLD, Australia
Opened in Oct 2014, the new venue is a sibling for Taro's Ramen & Café's Adelaide St city branch and it opened quietly in Ascot.
Owner Taro Akimoto says diners can expect an expanded drinks selection at the new suburban digs, featuring plenty of wines by-the-glass, with Riedel glassware to match the upscale location. There's also the usual quirky range of beer, including Japanese rice lager, alongside sake, umeshu and shochu.
30 seats inside air-conditioned and 50 seats in the outside covered area.  Ample Parking
二店舗目が本日10月一日致しました。
また、駐車場完備 です。新店舗ではラーメン各種はもちろん、ゆっくりとお食事をしていただく為Dinner限定のおつまみの種類を拡充、そしてリーズナブルなワインを多数 楽しんで頂く事に力を入れており、City店よりもカジュアルなワインリストをそろえ、グラス売りだけで20種類以上のワインをご用意しております。完全 に店主の趣味の世界ですが、ワインの保管にはVintecのワインキャビネット、グラスはすべてRiedel(SparklingはPlumm)でご提供 させていただきます。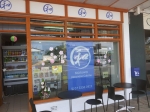 6 Corrie Street, Chermside, Queensland, Australia
A great little new addition to the Brisbane cafe/restaurant/Japanese goods scene in the northern suburbs in Brisbane.
Opened in September 2014 in Chermside, Maruwa offers a great selection of Japanese cafe food – for either local dining (limited)  or takeaway – including ramen, curry, donburi, gyoza, and some great sushi party platters ( give a days notice for pick-up…)
This small space also stocks a surprisingly-large range of Japanese staple products – soy sauce, Kewpie mayonnaise, Japanese curry sauces, snacks, drinks and a good range of Japanese confectionery, including the famous Japanese Green-Tea Kit Kats.