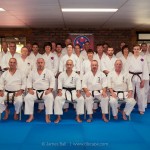 2/54 Kingston Drive, Helensvale QLD, Australia
The Gold Coast branch of the Okinawa Goju Ryu Kenkyukai is run by Damien Martin (6th dan) and Hannah Thornton (5th dan) at the Southern Cross Martial Arts Centre. This Gold Coast Okinawan Goju Ryu Karate dojo is located on the North end of the Gold Coast, at Helensvale, in a spacious, clean and modern training facility.
The Okinawa Goju Ryu Kenkyukai is headed by Masaji Taira sensei, Hanshi, 9th dan.
Damien and Hannah and a number of students travel to Okinawa annually to train with Taira sensei.
The Okinawa Goju Ryu Kenkyukai is renowned for its in depth study of the applications of kata.
The dojo is a part of the non-profit Southern Cross Martial Arts Association Inc
Gold Coast PCYC 108 Monaco Street Broadbeach Waters
STEP OUT OF THE COMFORT ZONE!
Come along and give it a go!
First class FREE for beginners.
Ideal for all ages, men women & children.
OUR CLASSES OFFER:
– High intensity training- ideal for weight loss and perfect for all levels from beginners to advanced
– Stress Relief
– Confidence
– Discipline & Positive Mindset
– Agility, Cardio, Flexibility, Plyometrics
– Core Strength & Body Conditioning using traditional methods
– Family Friendly – Family Discounts
– Group classes
– ONE on ONE Personal Protection ALSO AVAILABLE
– NO CONTRACTS
– NO NONSENSE TRADITIONAL GOJURYU KARATE & MARTIAL ARTS
– MEMBER of Japan Karate Federation Gojukai and Seiwakai International
University of Southern Queensland, Springfield Central, Queensland, Australia
Aiki Ten Shin Sho Kai has been teaching in Brisbane and Bristol since 1988.
It is a traditional Japanese martial arts school based on the principle of Aiki or blending with energy.
Both open hand and weapons forms are taught.
The primary purpose of the School is to provide a vehicle for self transformation; a new way of 'seeing' through the practice of a martial discipline.
It is not a sport nor a competitive art, so whilst it is extremely effective as a self defence, if you are after a quick and easy way to learn to 'fight', then this is not the School for you.
If, instead, you are looking for a more comprehensive approach, then Aiki Ten Shin Sho Kai offers a practical life philosophy as expressed through Japanese Budo.