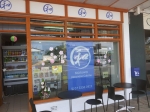 6 Corrie Street, Chermside, Queensland, Australia
A great little new addition to the Brisbane cafe/restaurant/Japanese goods scene in the northern suburbs in Brisbane.
Opened in September 2014 in Chermside, Maruwa offers a great selection of Japanese cafe food – for either local dining (limited)  or takeaway – including ramen, curry, donburi, gyoza, and some great sushi party platters ( give a days notice for pick-up…)
This small space also stocks a surprisingly-large range of Japanese staple products – soy sauce, Kewpie mayonnaise, Japanese curry sauces, snacks, drinks and a good range of Japanese confectionery, including the famous Japanese Green-Tea Kit Kats.
Shop 1/60 Vulture St West End
Zagyoza is a purveyor of delicious, authentic Japanese fare.
The delightfully welcoming team at Zagyoza, which includes talented Japanese chef Yachiyo san, serves up a wide range of inspired fillings, including a tempting assortment of vegan and vegetarian options.
Alongside the crispy dumpling offerings, you'll find Japanese bento box lunches, refreshing iced teas and a rotating menu of traditional meals.