Australia Japan Society - Qld Inc
Enewsletter- August 2019
AJS-Q Spring Bento Dinner at Mizu Japanese Restaurant
Come and join other AJS-Q members and friends for a casual bento dinner at Mizu Japanese restaurant, 2 Macquarie St Newstead.


Please book and pre-order your choice of bento from the registration form.


COST: $35 pp | $40pp non-members (includes sushi entree on arrival and choice of bento …


AJSQ Annual Careers Evening
L to R - Tommi Sullivan, Sarai Cook, Jaclyn Thompson, Sarah Hayes, Dr Anne De Kretser

More than 60 students attended the AJS-Q's annual Careers Evening held at Griffith University's Southbank campus on Wednesday 7 August.


Speakers Sarah Hayes, Sarai Cook, Tommi Sullivan and Rhys McGoldrick shared their experiences of pursuing Japan related careers before Andrew Carter from the Consulate General of Japan and Jaclyn Thompson, a former JET participant, spoke about the JET program.


Officials from Kobe and and Ichikawa visit Brisbane
The Mayor of Ichikawa in Chiba, Mr Hirotami Murakoshi and the Vice Mayor of Kobe, Mr Hidetoshi Terasaki, (pictured above) recently visited Brisbane to attend and speak at the Asia Pacific Cities Summit (APCS) and Mayors' Forum.


Make it Exhibition - featuring Kenji Uranishi
Tools are the key to understanding humanity. As a society develops, so too does its use of tools. We're wholly dependent on them, and use them from each moment to the next.


YAMATO – The Drummers of Japan
YAMATO, a group of dozens of musicians, start their performance by hitting Japanese taiko drum made from a 400 year-old tree, moving their whole bodies to strike the drum with everything in their souls, creating a powerful surge of energy.


Japanese Cultural Day - part of Japan Week 2019
Celebrate Japan Week with traditional Japanese music, tea ceremony, calligraphy, ikebana, kimono dressing and taiko drumming.


Tako-Ten Exhibition
Tako-Ten is an exhibition of hand-painted Japanese style kites.


Painted by four different artists – Clint Steele, Eric Bruckner, Horisano and Malis.


Sogetsu Ikebana Exhibition 2019
Annual Sogetsu Ikebana Exhibition - Ikebana - the Japanese Art of flower arranging.


Tarun Nagesh, Curator, Asian Art, QAGOMA will open the exhibition at 1015 AM on Sat 24th August 2019


Matsuri Brisbane 2019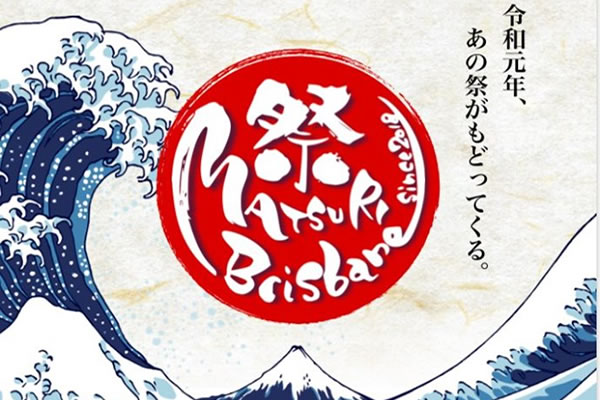 Matsuri Brisbane 2019 "Feel Real Japan"


Brisbane Japanese community group, Brisbane Seinendan Inc., is proud to announce the essence of Japanese "matsuri" or festival spirit to Brisbane again.


Lisa Ono - Live in Brisbane 2019
After the highly acclaimed sold-out shows in 2018, Japanese-Brazilian Bossa Nova queen, Lisa Ono, is bringing her warm smile and beautiful music back to Brisbane again in 2019.


Do you have something you'd like to share with AJS members?

Perhaps a travel story, article, Japan-related book or movie review, recipe or photograph. We always welcome any suggestions from members. Please send your contributions to Go-Nichi to the following email address: newsletter@austjpnsoc.asn.au

The AJS e-newsletter is sent to members at the end of the first week in every month.

GPO Box 2036 | Brisbane | Qld | 4001
execsec@austjpnsoc.asn.au
Chancellor: His Excellency, The Governor of Queensland
Co-Patrons :
The Hon. The Premier of Queensland,
The Consul-General of Japan, Queensland

Committee

Ms Margaret Rackemann - President
Mr Andrew Hay - Immediate Past President
Mr Yuki Nishiyama - Vice President
Ms Julie Yamamoto - Vice President
Ms Taeko Matsunaga - Secretary
Mr Steve Abbott - Honorary Treasurer
Ms Tomomi Iwasaki - Assistant Treasurer
Mr Ross McConachie - Past President
Mr Ross Humphreys - Past President
Mr Mark Bulley- Webmaster
Ms Shoko Arakawa
Dr Taeko Imura
Ms Gladys Busch
Mr Takeshi Takada
Mr Kohei Tamura
Mr Ian Parker
Ms Nicole Patterson