Australia Japan Society - Qld Inc
Enewsletter- August 2021
AJSQ Careers Evening

Come and listen to people who have learnt Japanese and have successfully utilized the language as part of their careers paths.


With strong trading ties between Japan and Australia, Japanese language skills will provide you with an edge in the workplace. There are so many industries in which Japanese language skills can prove to be a major advantage. Receive some valuable insights from those who have pursued fluency in the language, and utilised their Japanese skills across a number of industries.


A representative from the Consulate – General of Japan will also present information on next year's JET Programme. The JET program is a Japanese Government initiative, and has provided the platform for hundreds of Queenslanders to work in Japan, and deepen their understanding of Japan.


Free | online, via Microsoft Teams

Japan Week - Brisbane 2021

from 8th-24th August 2021
Japanese culture-related activities will be spread out over August to ensure safety and social distancing so there will always be something fun and interesting to do!


On Sundays during the month of August, visitors will be able to experience traditional Japanese calligraphy, the tea ceremony, Japanese Songs, ikebana flower arrangement and Japanese rice-cake Making 'mochi-tsuki' at the Mount Coot-tha Botanic Gardens.


Please note: Any covid-related event cancellation information will be updated to these listings also.
Notice of AGM
Thu 23 SEPTEMBER 2021 | VIA ZOOM
This year's Annual General Meeting will be held via Zoom on Thursday 23 September at 5:30pm.


Japanese Language Proficiency Test - Dec
Brisbane | December 5 2021 | Griffith University, Nathan
The Japanese-Language Proficiency Test (JLPT) is largest-scale Japanese language test in the world. Since 1984, the Japan Foundation and Japan Educational Exchanges and Services have continued to offer the JLPT as a reliable means of evaluating the Japanese proficiency of non-native speakers.


The JLPT is widely recognised across corporate and government …


Trivia and Lunch
After a successful online trivia event last year, this year JETAAQLD and AJS-Q invite you to join us in-person for a delicious Mediterranean lunch and trivia.


The event will be hosted by our very talented quizmasters Keith & Ken Parker who skillfully mix questions about Japan, Australia and contemporary events. Depending on numbers, we are planning to …


Introducing My Hometown – Kunitachi, Tokyo
by AJS Member - Taeko Matsunaga
Dear AJS-Q Members. My name is Taeko Matsunaga and I've been a member of the society for quite a while.I'd like to introduce you to my hometown, Kunitachi in Tokyo.


Kunitachi is a cute little town, in the Western suburbs of Tokyo. About half an hours train ride out from Shinjuku on JR Chuo …


AJS-Q Q & A with the Authors of Utsuwa - Japanese Objects for Everyday Use
Twenty five guests attended the Society's Q & A with Tiffany and Kylie Johnson, authors of the recently released Thames Hudson publication Utsuwa - Japanese Objects for Everyday Use.


Hosted by President Margaret Rackemann and AJS-Q Committee Member Nicole Patterson the event was held in the charming Crescent Room at Paper Boat Press Gallery, Ashgrove (Kylie, a ceramicist, owns and …


Compassionate Grounds: Ten Years on in Tohoku
to Sat 21 Aug, 2021 | Metro Arts, West End


"Compassionate Grounds: Ten Years on in Tohoku" is an exhibition of Japanese screen-based artworks that respond to the disaster and the transformed landscapes that represent irreversible loss and displacement.


CURRENT COVID19 LOCKDOWN RESTRICTIONS APPLY
Curated by AJS-Q member …


Chakakai -event report
A warm winter's day, a serene space high in the mountains and charming company – perfect ingredients for a celebration of beauty and nature that is at the heart of both the tea ceremony and Ikebana, held on 11th July 2021.


Our host, Margaret Price spent 20 years living and working in Japan before returning to Australia to establish her …


Riley Lee (Shakuhachi) & Takako Nishibori (Koto)
4th September 2021 | Sandgate Town Hall


part of the Music by the Sea Festival
RILEY LEE - began playing the shakuhachi (bamboo flute) in Japan in 1971, studying with Chikuho Sakai until 1980 & was given the rank of Dai Shihan (grand master) in 1980. He has been instrumental in creating a professional presence of traditional Japanese music in …


JSAA Postgraduate Workshop 2021: Navigating Asian Studies in a Post-COVID Environment
In conjunction with the Japanese Studies Association of Australia (JSAA) and with support from the Asian Studies Association of Australia (ASAA), the University of Queensland will be hosting an online postgraduate workshop on the 28th of September 2021 entitled 'Navigating Asian Studies in a Post-COVID Environment.'


Postgraduate research students in Australia have been severely impacted by the …


Japanese Studies Association of Australia Conference 2021
Sustainability, Longevity and Mobility' – Virtual Conference | The University of Queensland


A series of disastrous catastrophes in 2018 saw summer heat waves, earthquakes, landslides and flooding take the lives of many and disrupt that of others in Japan. The 41 degrees reached in this year was declared a natural disaster by the …


THE 10TH ASIA PACIFIC TRIENNIAL OF CONTEMPORARY ART (APT10)
The landmark tenth edition of QAGOMA's flagship exhibition series, 'The Asia Pacific Triennial of Contemporary Art' (APT10) takes a fresh look at contemporary art from across Australia, Asia and the Pacific.


The exhibition surveys recent developments in the art of a wide geography spanning from Northern Oceania to West Asia, with particular attention …


Matsuri Brisbane 2021 - a day in real Japan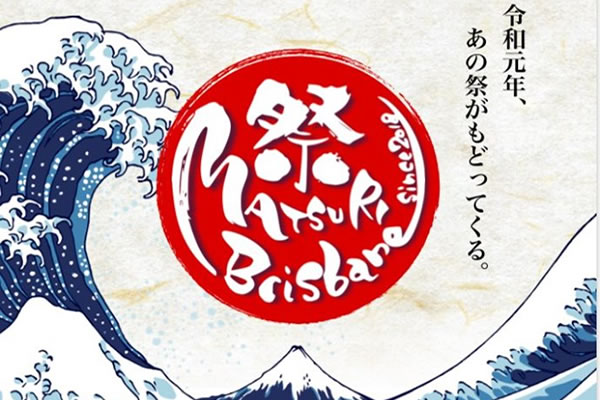 Matsuri Brisbane 2021 - A day in real Japan


Brisbane Japanese community group, Brisbane Seinendan Inc., is proud to announce the return of Japanese "matsuri" or festival spirit to Brisbane .


Matsuri will be back as bigger and better. Japanese food and drink stalls, cultural activities, martial arts demonstrations and …


AJS Japanese Study Group | online
The Society offers weekly Japanese language get-togethers..


The group now uses Zoom to maintain the regular Thu afternoon Study Group sessions.


Do you have something you'd like to share with AJS members?

Perhaps a travel story, article, Japan-related book or movie review, recipe or photograph. We always welcome any suggestions from members. Please send your contributions to Go-Nichi to the following email address: newsletter@austjpnsoc.asn.au

The AJS e-newsletter is sent to members at the end of the first week in every month.

GPO Box 2036 | Brisbane | Qld | 4001
execsec@austjpnsoc.asn.au
Chancellor: His Excellency, The Governor of Queensland
Co-Patrons :
The Hon. The Premier of Queensland,
The Consul-General of Japan, Queensland

Committee

President - Margaret Rackemann
Immediate Past President - Andrew Hay
Vice-Presidents - Julie Yamamoto and Taeko Imura
Honorary Secretary - Taeko Matsunaga
Treasurer - Stephen Abbott
Ross Humphreys - (Past President)
Ross McConachie - (Past President)
Tomomi Iwasaki - Assistant Treasurer
Mark Bulley - Webmaster
Yuki Nishiyama
Gladys Busch
Kohei Tamura
Takeshi Takada
Nicole Patterson
Leonie Kawamoto