Australia Japan Society - Qld Inc
Enewsletter- July 2021
Compassionate Grounds: Ten Years on in Tohoku
31 Jul – Sat 21 Aug, 2021 | Metro Arts, West End


"Compassionate Grounds: Ten Years on in Tohoku" is an exhibition of Japanese screen-based artworks that respond to the disaster and the transformed landscapes that represent irreversible loss and displacement.


Curated by AJS-Q member …


AJSQ Careers Evening
Come and listen to people who have learnt Japanese and have successfully utilized the language as part of their careers paths.


With strong trading ties between Japan and Australia, Japanese language skills will provide you with an edge in the workplace. There are so many industries in which Japanese language skills can prove to be a major advantage. Receive some valuable insights from those who have pursued fluency in the language, and utilised their Japanese skills across a number of industries.


A representative from the Consulate – General of Japan will also present information on next year's JET Programme. The JET program is a Japanese Government initiative, and has provided the platform for hundreds of Queenslanders to work in Japan, and deepen their understanding of Japan.


David Shield
Candice Ungerer
Rebecca Curtis
Shannon Whiley from the Consulate-General of Japan, Brisbane
TOKYO 2020 & TOKYO 2020 PARALYMPIC GAMES
After a long wait Japan will host the 2020 Summer Olympics, the Games of the XXXll Olympiad - TOKYO 2020, later this month and the TOKYO 2020 PARALYMPIC GAMES in August.


TOKYO 2020 will run from 23 July to 8 August 2021 and the TOKYO 2020 PARALYMPICS will begin on 24 August and run through until 5 September 2021.Japan, as the …


AJS-Q Corporate Member Clayton Utz Highlights the Australia Japan Relationship at Beef Week 2021
Beef Week, which is hosted in Rockhampton and occurs every three years, was held in May this year.


The event has continued to grow from year to year and 2021 was no exception. Beef is an extremely important primary industry for Australia and one of Australia's major trading partners for beef is Japan.


As part of this ongoing connection between …


THE 10TH ASIA PACIFIC TRIENNIAL OF CONTEMPORARY ART (APT10)
The landmark tenth edition of QAGOMA's flagship exhibition series, 'The Asia Pacific Triennial of Contemporary Art' (APT10) takes a fresh look at contemporary art from across Australia, Asia and the Pacific.


The exhibition surveys recent developments in the art of a wide geography spanning from Northern Oceania to West Asia, with particular attention …


Japan Week - Brisbane 2021
Presented by the the Consulate-General of Japan in Brisbane.
Japanese culture-related activities will be spread out over August to ensure safety and social distancing so there will always be something fun and interesting to do!


On Sundays during the month of August, visitors will be able to experience traditional Japanese calligraphy, the tea ceremony, Japanese Songs, ikebana flower arrangement and …


AJS - QLD supports the Iaido National Championship
During a period of rolling lockdowns caused by the coronavirus, the Australian Kendo Renmei was determined to proceed with the National Iaido Championships and Seminar held at the Gold Coast in June.


Some delegations were unable to attend, but following the cancellation of the 2020 Championships, all participants were pleased to be able to take part and receive very personalised training from the Australia-based …


My Favourite Museum in Japan - The Tokugawa Art Museum in Nagoya
Unlike in Europe, there are few "Family" Museums in Japan where you can visit and view objects held by one family, accumulated over hundreds of years.


This is largely because of major disruptions caused by civil war, earthquake and fire, the upheaval of the Meiji restoration, and destruction caused during World War II.


The Owari Tokugawa family were a branch of the Tokugawa …


4 Day Toowoomba Garden Tour September 2021
Though we can't go to Japan just yet, AJSQ member - Japan Holidays - is offering members a chance to experience the next best thing - A Taste of Japan in Australia- with 4 days in September , including a visit to the picturesque Ju Raku En Japanese garden  - complete with delicate cherry blossoms.


Matsuri Brisbane 2021 - a day in real Japan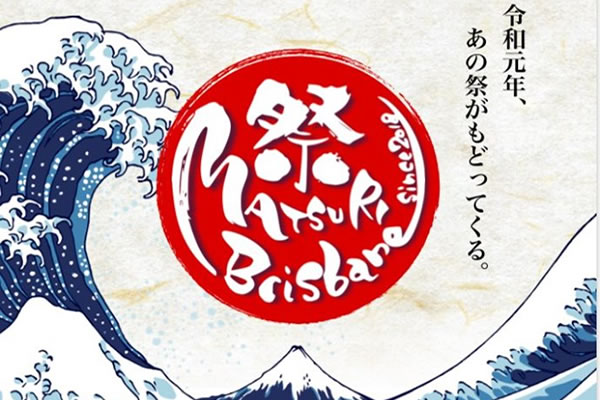 Matsuri Brisbane 2021 - A day in real Japan


Brisbane Japanese community group, Brisbane Seinendan Inc., is proud to announce the return of Japanese "matsuri" or festival spirit to Brisbane .


Matsuri will be back as bigger and better. Japanese food and drink stalls, cultural activities, martial arts demonstrations and …


AJS Japanese Study Group | online
The Society offers weekly Japanese language get-togethers..


The group now uses Zoom to maintain the regular Thu afternoon Study Group sessions.


Do you have something you'd like to share with AJS members?

Perhaps a travel story, article, Japan-related book or movie review, recipe or photograph. We always welcome any suggestions from members. Please send your contributions to Go-Nichi to the following email address: newsletter@austjpnsoc.asn.au

The AJS e-newsletter is sent to members at the end of the first week in every month.

GPO Box 2036 | Brisbane | Qld | 4001
execsec@austjpnsoc.asn.au
Chancellor: His Excellency, The Governor of Queensland
Co-Patrons :
The Hon. The Premier of Queensland,
The Consul-General of Japan, Queensland

Committee

President - Margaret Rackemann
Immediate Past President - Andrew Hay
Vice-Presidents - Julie Yamamoto and Taeko Imura
Honorary Secretary - Taeko Matsunaga
Treasurer - Stephen Abbott
Ross Humphreys - (Past President)
Ross McConachie - (Past President)
Tomomi Iwasaki - Assistant Treasurer
Mark Bulley - Webmaster
Yuki Nishiyama
Gladys Busch
Kohei Tamura
Takeshi Takada
Nicole Patterson
Leonie Kawamoto